Your Guide to Kitchen Flooring Options
May 14, 2020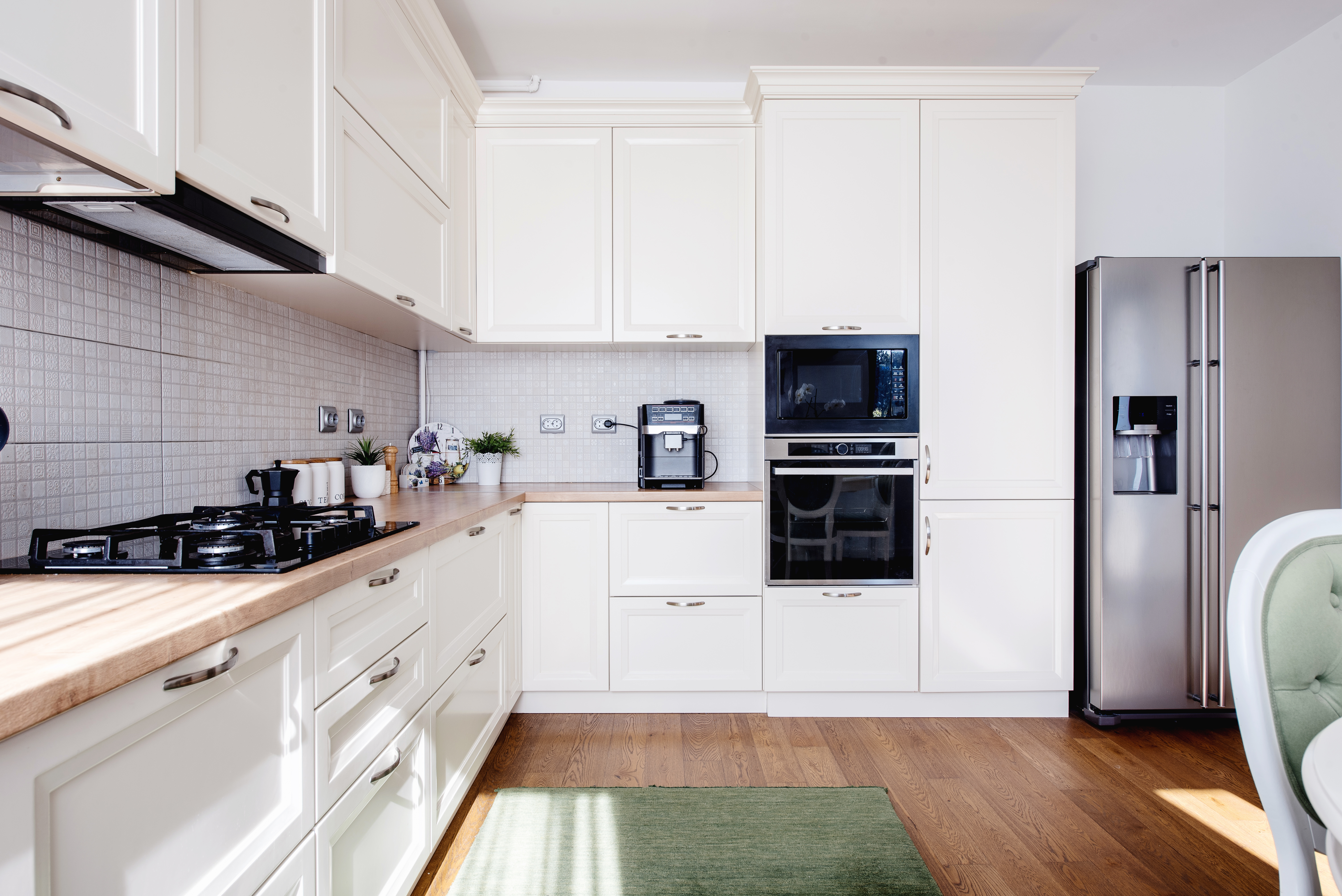 When it comes to updating your kitchen floor, it's hard to go wrong. There are so many flooring options that meet all the criteria for a quality kitchen floor – one that is durable, affordable, and attractive. There are many different materials for kitchen flooring options, and all have their benefits. It's important to look at your style, needs, and budget, and then consider which material may work best for your home.
Laminate Kitchen Flooring Options
Laminates are very affordable kitchen flooring options, while still offering style and durability. Laminate flooring can stand up to high traffic areas in the kitchen and can actually reduce noise. Laminate can be created to look like stone, wood, travertine, and has almost endless design possibilities. Caring for laminate is easy, as is install. A disadvantage is that the resale value will be lower if you're looking to list your home, and laminate flooring cannot be repaired.
Tile Kitchen Flooring Options
Tile can be glass, travertine, ceramic, sandstone, or porcelain. Although each style of tile has its own beauty, all can add a rich, modern, and sleek look to your home. When installing tile, you can be creative with the placement of the natural tones. Tile is durable and long lasting. While tile is a beautiful kitchen flooring option, it can get very cold, making it uncomfortable for bare feet in the winter. Tile can also be porous, meaning spills may stain. Tile can also crack or chip, requiring replacement for those squares.
Wood Kitchen Flooring Options
Hardwood floors are classic, sturdy, and impressive, but kitchens, with the potential for high traffic and plenty of spills, aren't always the best choice for hardwood. Real hardwood can be moisture damaged and all spills would need to be addressed immediately. Engineered wood has a similar look to traditional hardwood but is much more resistant to moisture and high traffic. In both cases, these floors need to be cleaned with specific hardwood floor cleaner and will require more care. Hardwood floors can be expensive initially, but with care, will last a very long time.
Vinyl Kitchen Flooring Options
Vinyl used to be considered old fashioned and cheap, but that is no longer the case. Vinyl kitchen flooring options are still versatile, durable, and economical, but designs have come a long way. Vinyl is easy to install, and scrapes and chips are less noticeable throughout. Luxury vinyl tile is the best option, as it has the look of higher end materials without the price tag. The vinyl to avoid is rolls that are glued only at the edges, which may not last as long.
When having your new kitchen flooring installed, it's important to hire a contractor who has a lot of experience installing the flooring you choose. A professionally installed floor, no matter which flooring option you choose, will be easy to maintain and last a long time. We'd love to talk to you about your plans for replacing your kitchen floor. Contact us today for an estimate or answers to your flooring questions.