Trendy Yet Classic Kitchen Backsplash Ideas
September 14, 2022
A kitchen backsplash is a great way to protect your walls from splashes and spills, and it can also add a touch of style to your kitchen. As such, investing in a new backsplash is a great way to give your kitchen an update. There are many types of backsplash ideas that you can incorporate, which means that you can find something that will compliment the rest of your kitchen's aesthetic as well as create a focal point if you so desire. With that in mind, the following are a few backsplash options to consider: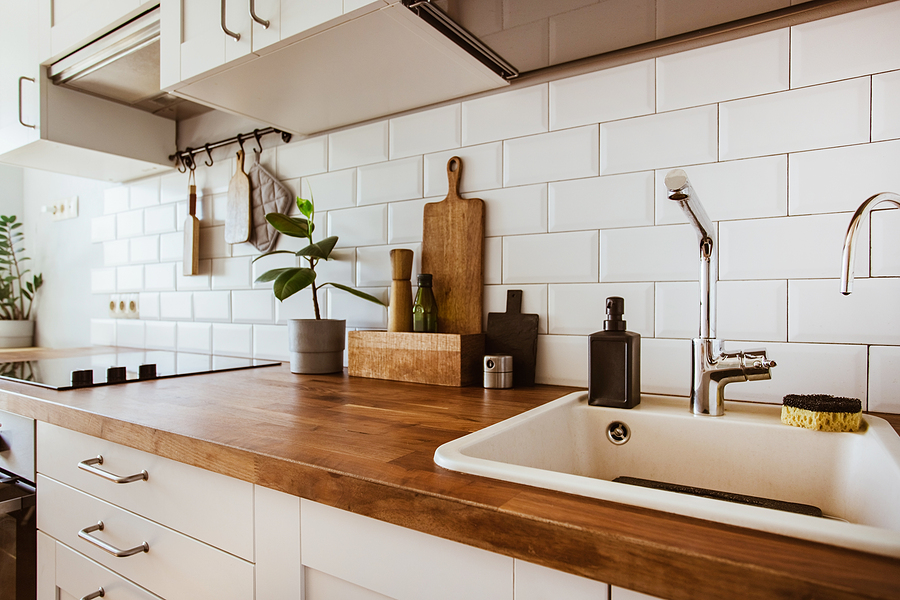 Ceramic Tiles
Ceramic tiles are one of the most commonly used materials for backsplashes because they are easy to clean and maintain. They come in a variety of colors and patterns, which means that you can find something that suits your kitchen's style. If you're looking for something classic, then white or cream-colored ceramic tiles will be a great option.
Alternatively, if you want to add a pop of color to your kitchen, then you can opt for brightly colored tiles. There are also patterned ceramic tiles available, which can add an interesting touch to your kitchen decor.
Glass Tiles
If you're looking for a more modern look, then glass tiles might be the right choice for you. Glass tiles reflect light, which can make your kitchen appear brighter and more spacious. Glass tiles are also very easy to clean, so you won't have to worry about spills and splashes.
Metal Tiles
Metal tiles are another option that can give your kitchen a more modern look. They come in a variety of metals, including stainless steel, copper, and aluminum. Metal tiles are a great option if you have a more contemporary kitchen or if you have a lot of stainless steel appliances. You can find metal tiles in a variety of colors and designs, so you should be able to find something that fits in with the rest of your kitchen design.
Stone Tiles
Stone can help add a natural look to your kitchen backsplash. Stone backsplashes work well in rustic and contemporary settings. There are many different types of stone to choose from, including marble, granite, and slate. Stone tiles are more porous than other materials, so they will need to be sealed on a regular basis. However, they are very durable, so they are a good option for busy kitchens.
Subway Tiles
Subway tiles are a classic choice for kitchen backsplashes. They come in a variety of colors and can be arranged in a variety of patterns. You can also find subway tiles made from different materials, including glass, ceramic, and stone. What makes them different than other types of tiles is that they are usually rectangular in shape and have beveled edges. They get their name from the fact that they were originally used in subway stations. Subway tiles are a popular choice for kitchen backsplashes because they not only provide a classic look, but are also easy to clean and maintain.
When it comes to materials, there are countless options to choose from for your new kitchen backsplash. Choosing the right one depends on your kitchen's existing style as well as your personal tastes. It's also worth noting that there are many different patterns and colors to choose from, which means that you can create a completely unique backsplash that adds a strong focal point to your kitchen space.
If you're thinking about adding or updating your kitchen backsplash, contact us at Community Renovations to schedule an appointment or to request more information about our kitchen renovation services.