Key Designs in your New Accessible Kitchen
February 13, 2018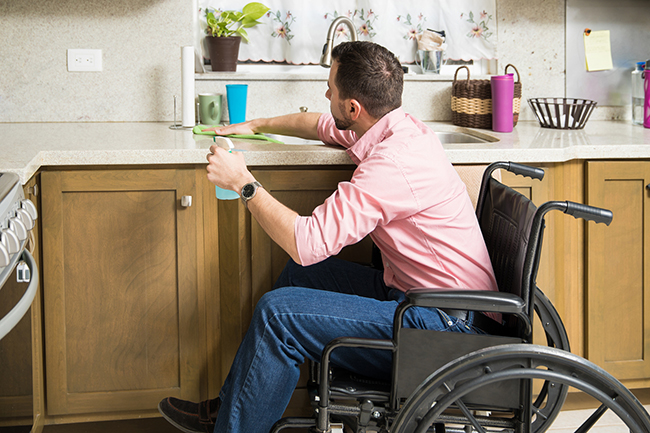 Good design must reflect your personal tastes and the functional needs of everyone in the house. Every family is unique in its own way, and your functional needs may change over time. In many homes, the kitchen plays a central role in bringing people together.
For example, your grandparent's kitchen will differ significantly from your newly-married brother's kitchen. As a hub for the family, the kitchen must remain accessible to everyone in the home, including members with limited mobility. Depending on your family's needs, you might need to make it accessible before moving in or work on renovating your current kitchen to accommodate changing mobility needs.
Accessible Storage
Storage in the kitchen plays an important role in making everyone feel like they can use the kitchen comfortably. Improve storage accessibility by including corner pullouts, lazy susans and pull out shelves. Pull outs improve visibility and handling of anything in storage. They make it easy for anyone to find and lift items that would otherwise strain the back, shoulders or knees. Make it functional by creating a peg system for better organization. Additionally, avoid storing heavy items either too high or too low where family members have to either bend or reach high to fetch them.
Height
While remodeling your kitchen to improve accessibility, you must consider where you locate key items. Things you use on a regular basis must be at counter height or below so that everyone can access it easily. Get creative if you need to place anything below counter level. For example, you can create a special microwave compartment under the counter. Experiment with different ideas and challenge 'normal' height expectations. Customize your kitchen to cater to your family's unique height needs. All height related renovations should focus on reducing the amount of effort required to reach everyday items.
Adaptability
While improving accessibility in your kitchen, you must think of everyone who uses the kitchen on a regular basis. Your design must consider members with mobility issues and the rest of the users. Simple ideas that improve adaptability include adjustable counter tops, upper and lower cabinets, movable worktops and adjustable sinks among others. If you need to use upper storage, consider shelves different users can pull down to their convenience.
Movement
Keep the design simple enough to facilitate easy movement. Avoid any protruding parts, sharp corners and complex appliances that can easily cause an accident. Keep everything simple and easy to navigate, with enough clearance space around doors and appliances, for easy maneuvering when you need to open doors or take things out of drawers and cabinets.
Slip Resistance
The different activities that take place in the kitchen make them prone to messes from dirt, water, and grease spills. While you may work round the clock to keep your kitchen clean, routine kitchen activities can lead to spills, making the floor slippery. Instead of taking chances, invest in floors with better grip. Look for flooring surfaces that allow for a steadier footing. In case you feel confused, consult our design expert for different recommendations. Textured flooring will help reduce the accident risk in the kitchen and even make movement in the kitchen for kids and the elderly safer.
Safety
The kitchen serves the entire house throughout the day and you must create a space where everyone feels safe. Safety begins with the design process. Understand the different activities that will take place in the kitchen, the unique needs of every family member and the special features everyone will need to stay safe. Focus on simplicity and minimize obstacles your loved ones have to face on a day-to-day basis while in the kitchen. The design process should also consider cleanliness; make it easy for everyone who uses the kitchen to clean after themselves and even help with the overall cleanliness of the space.
Transforming your kitchen into an accessible space requires a unique understanding of your family's needs. While you may have a general idea of the changes you need, an industry expert such as Community Renovations will help you bring your ideas to life while making the space accessible and functional to everyone in the house.