Is it Difficult to Maintain a Wooden Floor in a Kitchen?
July 29, 2020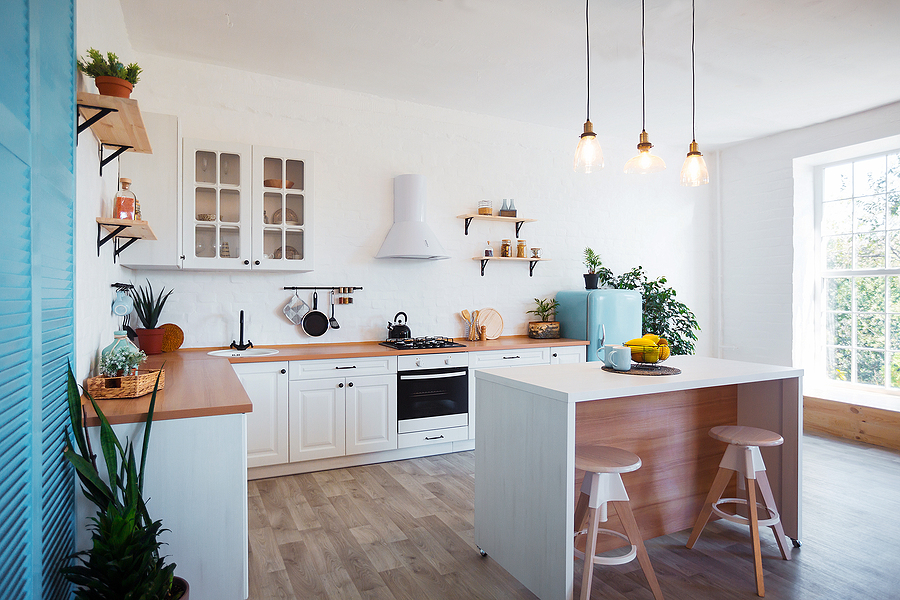 Wood flooring is beautiful and always a top recommendation for homeowners looking to upgrade their floors. One of the rooms where wood isn't always the best choice is the kitchen. Homeowners know that wood can be difficult to maintain in such a high traffic room prone to so many spills, but they also see other homeowners making it work. When looking at kitchen flooring options, is wood a good choice?
Considerations to Take When Looking at Wood in Your Kitchen Flooring Options
Wood and water don't mix, and that's been the advice given to many homeowners when looking at kitchen flooring options. When wood becomes wet, it can swell, warp, and even split. A wood floor is expensive to repair or replace when it is damaged. A dishwasher leak, a pipe malfunction under the kitchen sink, or a refrigerator failure are all possibilities that can damage a section of wood flooring quickly. However, little splashes from washing pots and pans, a small spill, or a few drips pose a much lower risk, especially if you are vigilant about cleaning that water up quickly.
The other consideration of wood flooring in the kitchen is the wear and tear a kitchen floor goes through. An appliance repair – while saving your wood from water damage – may require the appliance to be dragged away from the wall, leaving deep scratches in the wood that will need to be repaired. Even moving chairs around the table can damage the floor.
Advantages of a Wooden Floor in the Kitchen
When your home has an open floor plan, having a wood floor throughout the living spaces, including the kitchen, can provide a seamless look as the kitchen flows into the dining area or family room. Different flooring can break that flow. Wood has a warm, soft feeling underfoot, whereas ceramic tile is cold and hard on bare feet. And, of course, wood is beautiful when well maintained and can work with a variety of styles, from rustic to modern.
How to Maintain a Wood Floor in the Kitchen
While wood flooring may not be difficult to maintain for a competent homemaker, it can't be considered low maintenance either. In addition to sealing and restoring the floor with a durable finish every few years, homeowners who want a wood for their kitchen flooring option will need to:
Wipe up spills immediately. If you have family members who are careless and spill often, or are not vigilant about immediately cleaning a spill, you'll have to change your habits or change your flooring choice. Wood flooring means you'll need to stay on top of anything on the floor.
Clean the floor carefully. Sweeping and vacuuming will need to be done frequently, even daily, as any dirt and grit will wear away the finish. Steam floor cleaners can damage the finish of a wooden kitchen floor. There are certain cleaners designated for wooden floors, and you'll need to choose one of these. Wood floors should be mopped only occasionally, and with a slightly dampened mop. Wet mopping can damage the floor.
Put pads on the bottoms of kitchen chairs and tables and make sure that they stay adhered to the furniture. This will keep the chairs from damaging the floor when moved.
Be vigilant about leaks. Be consistent about checking the dishwasher and under the sink for any signs of water. If you find a leak, shut off the water to the kitchen and immediately call a plumber.
Use rugs and floor mats in high traffic areas. A rug by the sink, the stove, or under the kitchen table may help absorb small spills before they become a problem.
When moving appliances, take care to protect the floor with plywood or another material. Dragging an appliance is something to avoid if at all possible.
You Can Have a Wood Floor in the Kitchen
When looking at your kitchen flooring options, be honest with yourself about your family and your use. Wood can be a beautiful option for a kitchen floor if you are able to maintain it. If not, a qualified contractor can help you achieve the look you want that fits your lifestyle. There are so many flooring options to choose from that it's almost impossible to not find a flooring choice you like as much as wood. Technology has allowed for low maintenance flooring that looks and feels like wood without the worry of spills and high traffic wearing it down too quickly. We can help you make a great choice for your kitchen flooring. Contact us at Community Renovations for more information about all of your kitchen flooring options.