Wheelchair Ramp Construction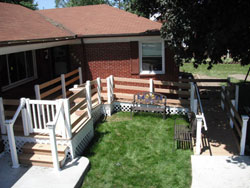 Mobility may not be as easy when dealing with aging, so individuals may need to remodel their home to accommodate for these changes. Community Renovations is happy to help create compatible ramps so that the struggles of mobility can be eased. We understand that without ramps it may be difficult to enter your home, so we strive to provide customers with a barrier free entry and still have a stylish home. Our efforts to create a wheelchair accessible home will be in compliance of the American Disability Act, so that homes and commercial buildings will have the required dimensions and durability for years of use.
Wheelchair ramps can be constructed in all sizes and in a variety of materials from wood to aluminum and concrete. Community Renovations works closely with you to determine the size and material to build your ramp making sure your wheelchair ramp is functional but also looks nice. Through the process of creating the wheelchair ramps, we will work with customers to make sure that they will be comfortable using the ramps and will continue to make adjustments to accommodate everyday use.