What's Trending in Bathroom Design for 2020?
January 15, 2020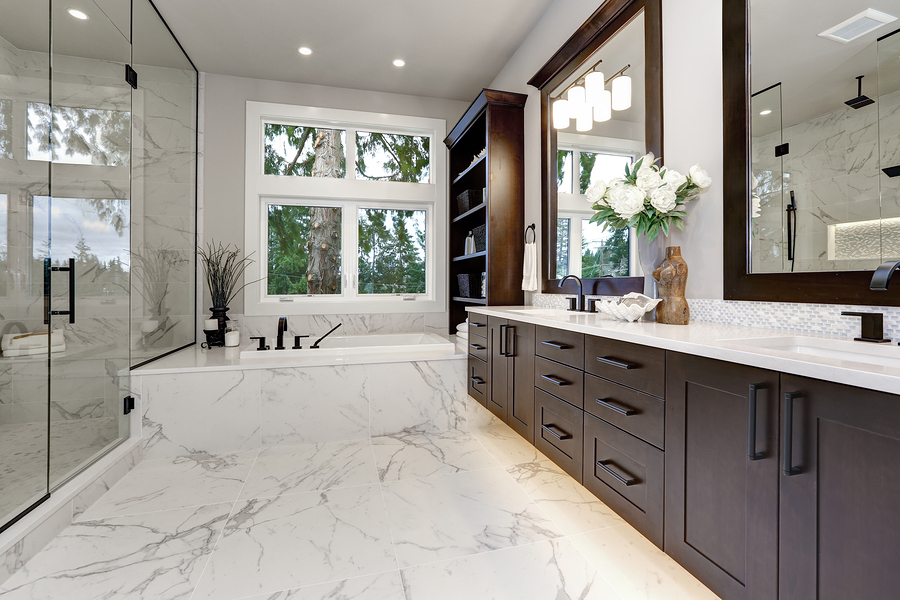 The bathroom can be one of the least talked about rooms in your home, yet one of the most important renovations. A beautiful bathroom can create a space like your own personal spa for cleanliness and relaxation. Renovating a bathroom is also a great opportunity to upgrade older pipes and heating, and install new energy-efficient options to reduce your utility and water waste. An added benefit, a bathroom upgrade will also help improve your home value both now and for resale.
Explore some of the hottest trends for the best bathroom designs of 2020.
Bring the Outside In
Creating a more natural bathroom space should start with materials. Consider natural tones such as river rocks or wood grains for your tiles. Whole wood accessories or bamboo can help create a forestry feel. Choose from organic linens and shower curtains in natural hues. Consider adding a skylight to let in the sunshine while still protecting your privacy.
And don't forget the plants.
Plants are a fantastic way to add a touch of nature to your bathroom. This greenery will create a relaxing feel, and plants often thrive in the moist bathroom environments, just make sure you provide enough light either artificially or naturally. As an added benefit, many plants can help clean the air in your home, reducing odors and increasing oxygen.
Terrific Terrazzo
Terrazzo is a composite material usually made from mixing natural stones, cement, and marble. Highly popular back in the day, you could find terrazzo in many businesses or even airports. Terrazzo is now making a comeback, with more vibrant colors. A key feature of this material is its ability to be shaped as it gets poured into a form, yet hardens to a strong, durable, and water-resistant finish.
Try terrazzo for counters, floors, or shower surrounds and backsplashes.
Tiny and Terrific
Some of the newest innovations in bathroom designs are coming for tiny spaces. From the family who just needs one more 1/2 bath to the new innovations surrounding tiny homes — tiny is the next big thing.
To accommodate these space savers, designers and architects are coming up with new methods of creating hybrid devices, hidden storage, and added height. A new trend in the tiny bathroom is the use of luxurious materials to make space feel more comfortable. When you have a small space, using marble, solid cherry, or high-end porcelain is more doable because the price tag stays in budget.
Don't forget, tiny spaces offer smaller eco-footprints too.
These are just a few of the exciting and upcoming trends for 2020. What do you think about these ideas for your own home? Contact us today to start talking about your bathroom renovation plans.