Walk–In Showers in Detroit, Michigan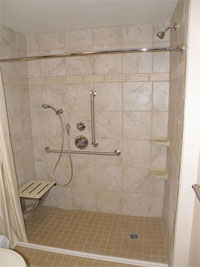 For those who are handicapped or disabled taking a simple shower, can unfortunately be a complex proposition. However, if you're having trouble getting into your tub or even showering without assistance you should know that there is help available. As one of our many barrier–free construction projects, Community Renovations of Detroit is proud to offer you the opportunity to have access to a handicap–accessible walk–in shower of your very own. Whether we're starting from scratch with an entirely new model or renovating your existing shower one thing is certain: the changes we make to your bathroom can significantly improve the ease with which you are able to bathe. The alterations we provide are not dramatic, and yet their effect is. Contact us today if you live in the Detroit area and see the difference one of our walk–in showers can make.
What Features Do Our Walk–In Showers Contain?
Unlike a tub, there's no step up, allowing for far easier access.
We'll install grab/ safety bars to make sure you'll always feel secure in your walk–in shower.
We'll install a lining which is easy to clean and will dependably prevent leakage.
We'll ensure that water will drain efficiently and quickly from the shower.
Why Community Renovations?
If composite just isn't the right material for your project you should know that there are a wide variety of options:
We guarantee that your shower will adhere to every ADA regulation.
We'll put a great deal of emphasis on both functionality and aesthetics, making sure that neither need be sacrificed for the other.
Often, we'll simply be able to modify your preexisting shower rather than installing an entirely new one, saving you time and money.
We promise to work with you on every step of the process and to keep your costs as low as possible.
Most of our products require little or no remodeling.
We'll work quickly to ensure that you'll have your new shower as soon as possible.
It's our guarantee that your new walk–in shower will improve your life substantially. Let us know exactly what you need.
We at Community Renovations seek to truly improve the lives of our clients, offering them a beautiful, highly functional product which can dramatically increase their mobility and their general standard of living. If you're in need to assistance don't delay. Simply give our Detroit office call or send us an email. We'll ensure that every one of your construction–related needs is met and will not rest until your situation is improved. For a fair price, reliable work and the kind of products that can truly change your life, contact Community Renovations of Detroit today.