Roll-in Shower Installation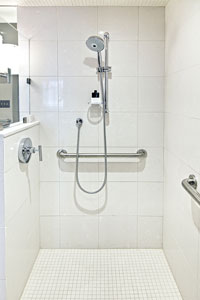 Roll-in Showers are necessary to making a home more handicap accessible. It provides users the power of mobility. Community Renovations works directly with customers to make sure that proper ADA regulations are being set in place and that your bathroom and roll-in shower are built to fit the customers mobility needs. By creating a shower that allows an individual the ability roll-in and move around it provides them independence and privacy without having to have someone helping them while showering.
When building the roll-in shower, Community Renovations will create a shower that provides functionality with style to match the rest of the bathroom. Also when considering shower designs our contractors will work with customers make sure that lining of the shower will be easy to clean and proper drainage. We understand that customers need quick and reliable service. During the design process or contractors work with customers to keep their costs down and strive to quickly remodel a roll-in shower with out having completely remodel the entire bathroom unless desired.