Welcome to Community Renovations
Here at Community Renovations, our experienced staff will plan, design and build all of your home improvement needs.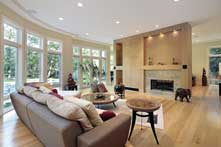 We are a full service construction company with a "hands on" approach at every level. Our pride in workmanship, fair business practice, superior customer service, and unsurpassed safety records, are just a few reasons to choose Community Renovations. We turn your dreams into reality.
Our experience in all aspects of construction, preconstruction management, and development directly benefits our clients. We are a team of dedicated professionals who conduct business with honesty and integrity. Whether it's commercial, residential or barrier free construction, our projects result in quality construction at competitive prices.
Barrier Free Construction
Community Renovations is a fully licensed contractor specializing in residential and commercial modifications for accessible and independent living. We are experts in bathroom and kitchen remodeling and offer a range of solutions to aid in navigating stairs, including stair lifts and chairs, and ramps.
Aging in Place
If you are planning a remodel, Keep your future in mind. You might not have a need for barrier free modifications now but we can help you plan ahead for when you do. We can design your home remodel & prepare for future modifications now to save you time & money later.
Residential Construction
Community Renovations is a fully licensed residential contracting company that provides both interior and exterior remodeling. From design concept and plans through complete construction, Community Renovations provides a full range of services. We take great pride in our high-quality, on-budget work for our clients.