How to Choose the Right Flooring for Your New Kitchen
December 18, 2019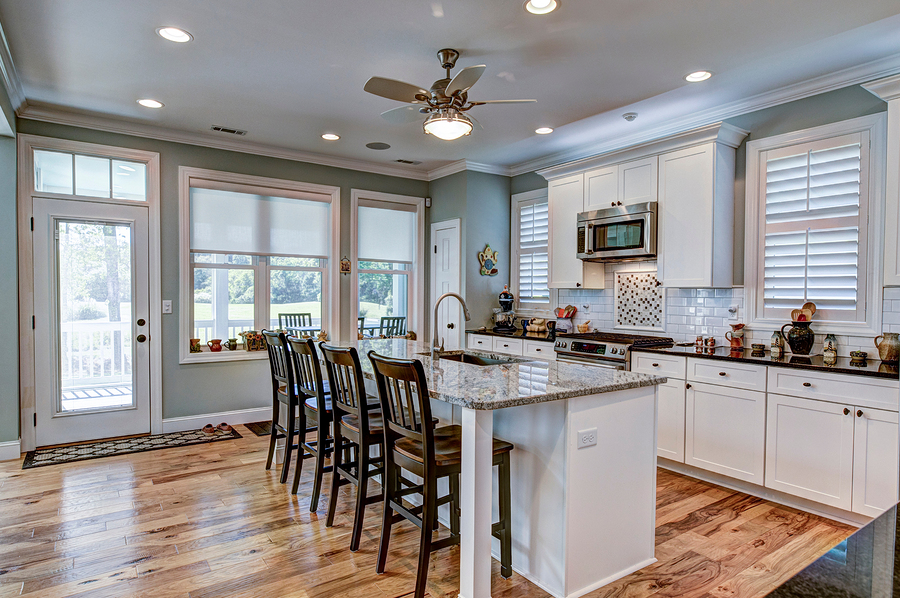 Without a doubt, kitchen floors take an unusual amount of use – and abuse ! – on an almost daily basis. For this reason, it pays to choose the best flooring option for your lifestyle and needs. The most important considerations that should be taken into account are durability, the ability to clean it easily, and design. Here is a quick rundown on the best kitchen flooring options available to you right now:
Sheet Vinyl
The most affordable option, the latest sheet vinyl products are extremely durable, easy to clean, water-resistant, and comfortable to walk on. In addition, they come in a variety of colors, patterns, and finishes. One downside is that they can dimple easily from heavy appliances or the occasional high-heel shoe. Do not confuse this product that comes in a continuous sheet with its cousin, the small, stick down square vinyl tiles. Sheet vinyl – especially the thicker varieties – is a far superior product.
Porcelain Tile
An even more durable kitchen flooring option is porcelain style. It is an excellent choice for high traffic areas as it not only can bear constant use but is also water- and stain-resistant. Unfortunately, this durability comes at a price. Porcelain tile is heavy and generally should not be used in an upstairs kitchen. Similarly, it is very hard and any plate or glass dropped on it is likely to shatter. Another downside is that the grout between the tiles may stain or otherwise discolor and must be resealed every two to three years.
Stone Tile
Easily the most expensive option, stone tile provides a one-of-a-kind kitchen floor as no two will be exactly alike. You can choose from slate, granite, marble, or travertine. Each type comes in a variety of natural colors and provides striking beauty in a non-slip surface. In addition, it is available in sizes ranging from two-inch squares up to 18-inch tiles for a more streamlined design. It is durable but requires regular maintenance in the form of yearly sealing to keep it from staining.
Engineered Vinyl Plank (EVP)
EVP is a man-made product designed to combine the best qualities of the other flooring options mentioned above. It is extremely durable, easy to clean, water-repellent, and virtually maintenance-free other than regular cleaning. It is also exceptionally easy to install. It is priced midway between sheet vinyl and natural stone tiles. All in all, an excellent value that will lend beauty and functionality to any kitchen.
There you have it. Four excellent kitchen flooring options that can meet the needs of almost any residential kitchen. For more information on them, please contact us today!