Composite Ramp in Detroit, Michigan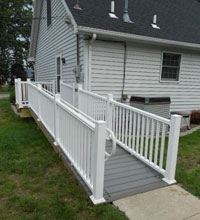 Here at Community Renovations, we take pleasure in nothing more than improving the lives of those who have had their situations complicated by disabilities. For some, their physical status can impede their ability to move around their home comfortably. Perhaps you just moved into a new home near Detroit, Michigan which was not previously inhabited by a handicapped person. Maybe you've just recently become disabled and have found that tasks which you could previously perform with ease have become far more challenging. Or perhaps you're not personally handicapped but you've recently acquired a business or property that you wish to convert for the convenience of others. Regardless of your motivation, Community Renovations can help. We offer a wide variety additions which can be utilized to make your home or business barrier–free, including a wide variety of wheelchair ramps, including models available in highly–durable composite.
What Kinds of Ramps Do We Offer for Detroit?
We offer products made out of composite, a highly–durable material which forms the bedrock of a highly safe and reliable ramp.
We offer options for both indoor and outdoor models.
Our composite ramps are custom made to fit your project and can be ordered in a wide variety of sizes.
Though we care a great deal about functionality, we haven't forgotten about aesthetics. The custom composite ramp we create for you will serve both areas beautifully. Not only will it be built to match you needs perfectly, but it will complement its location as well, making sure that you never have to sacrifice looks for functionality.
What Other Types of Materials are Available?
If composite just isn't the right material for your project you should know that there are a wide variety of other options:
You could, for example choose to have a metal wheelchair ramp installed. One popular option is aluminum, a dependable, lightweight material which can be used to create highly portable products. Another option is steel, a bit stronger but heavier as well.
We likewise offer wooden construction ramps, one of our lighter options.
Finally, we can also build your wheelchair ramp out of concrete. While this option obviously does not lend itself to the creation of light or portable ramps, it does provide a huge amount of strength and durability.
If you are in the Detroit area and need a wheelchair ramp installed you'll want one which is affordable, reliable, totally functional and pleasing to eyes. As such, it'd certainly be in your best interest to consider Community Renovations. We guarantee that you'll love our work. Call us today for an estimate.